Dear Jeanne,

Thanks to the many of you who joined the monthly Third Act All-In Call on April 27, 2022. If you missed the call, you can watch a recording here. As promised, we are sharing all the follow-up actions and links in this email.

We heard from speakers Svitlana Romanko, a climate scientist from Ukraine sharing how big banks are fueling Putin's war and how we can help; 11-year old activist Lillian Fortuna sharing her change.org petitionto Biden to deliver heat pumps to Europe, and Third Act Nevada leaders—Christiane Brown, Kit Miller, and Grace Potorti—beautifully describing their actions to defeat anti-voter rules in Washoe County and to partner with Native American communities to protect sacred lands and waters from lithium mining, along with their climate actions.

When Bill McKibben asked youth activist Lillian what her message is for those of us "who aren't so young any more," Lillian said "As long as you are alive and well, there's always something you can do!" and then she rattled off a great list.
So, in that spirit, here are some next steps
all Third Actors can pursue in the next two weeks:
Sign up now for our May 11th workshop on how to meet with a Big Bank branch manager to share your concerns about their role in the climate crisis and ask them to deliver the message internally to their higher-ups and CEO to stop investing in fossil fuels. Register Today! Before you join the workshop, make sure you're signed-on to our Banking on the Future pledge—and share it around with friends and networks.
Help Lillian get thousands of signatures on her Heat Pumps for Peace petition. She's gotten at  least 700 more signatures since our All-In Call. Please sign and share!  We hope to help Lillian deliver this petition to the White House.
Learn about the banks and investors fueling Putin's war in Ukraine, highlighted by Svitlana, at Putin100.org. The International Rescue Committee has a variety of ways you can help people in Ukraine, including donating to support refugees, asking President Biden to accept more refugees, and more.
Keep up the incredible work around mobilizing for the midterms! Click here to get more addresses and a script for postcarding voters in Wisconsin before their statewide primary.
Listen to the updated Third Act Playlist! The Staple Singers, Roberta Flack, Carole King, The Shirelles and others have just been added to the mix: ENJOY!
Later in the week, we'll be sending over exciting details about our newest Safeguarding Democracy effort: our cross-generational "Senior-To-Senior" initiative to help graduating high school seniors in your life—and other young people!—to register to vote.
As noted on the All-In Call, about 4 million young people turn 18 every year in the US, and according to our partner Civics Center, less than 20% of youth who will turn 18 by the 2022 midterms were registered to vote in most states that provided data, despite being eligible to register under their state laws.
Third Actors like you are dependable, long-time voters with important stories to share that will help inspire and motivate young people to register and vote. Stay tuned for what you can do to register young people to vote in this upcoming high school graduation season and beyond….
Meanwhile—thanks for all that you do!

Vanessa Arcara, President

And the team at Third Act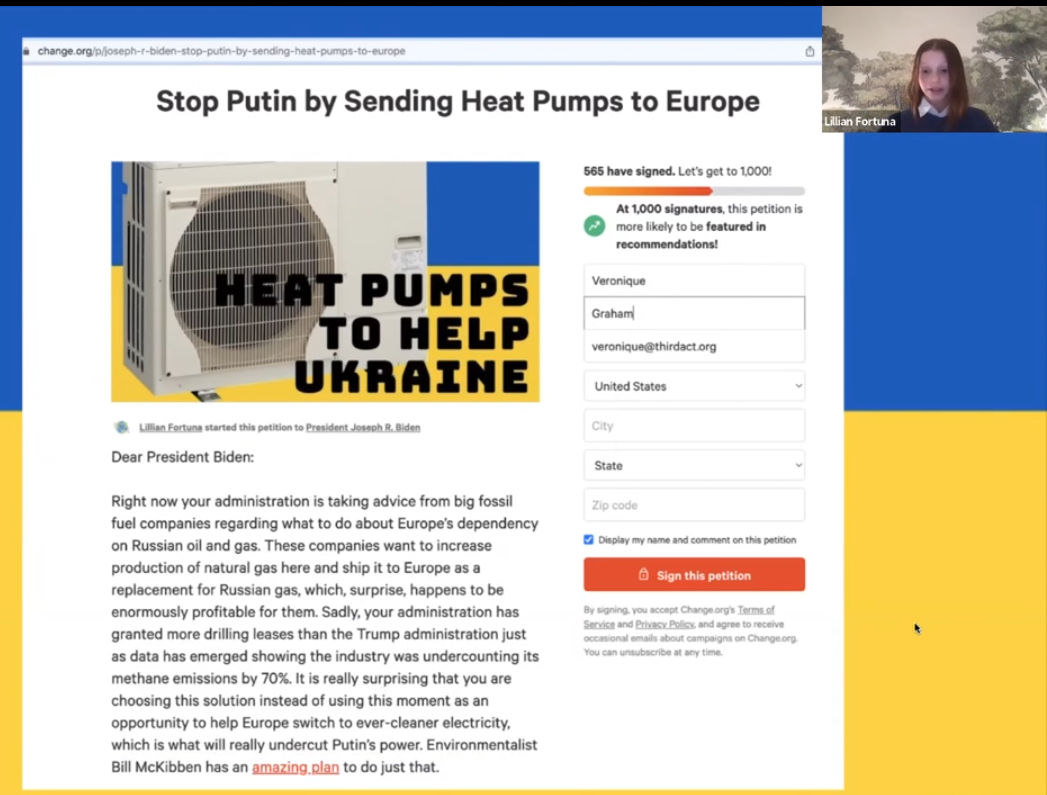 Third Act
Sustainable Markets Foundation – 45 West 36th Street 6th floor
New York, New York 10018-7635
info@thirdact.org