View this email in your browser
Jeanne – what a whirlwind!
Last week was Trans Mountain's final deadline to secure the annual insurance it needs to proceed with its climate-wrecking pipeline.
Although we're still waiting to see if more companies will publicly announce that they've cut ties with Trans Mountain, (the Canadian government keeps this information a secret now), there's no doubt that our collective efforts have already had a massive impact. Eighteen insurers and counting have so far refused to back the pipeline!
In the meantime, we can't let up the pressure on known insurers like Liberty Mutual until they come clean about their ties with Trans Mountain. Click below to comment on Liberty's social media and force the company to make a statement.
It's been over three years since the Stand.earth community first started targeting Trans Mountain's insurers. Remember that without insurance, the pipeline cannot go ahead – so this may just be one of our best strategies for stopping this project (and all expansion of the tar sands) once and for all.
We've been working with an Indigenous-led, global campaign to un-insure the pipeline – and every year, we've collectively pushed more and more major insurers to back out. First it was Zurich. Last year it was Chubb. This year, Aspen and Arch already became the seventeenth and eighteenth insurers to refuse insurance for Trans Mountain.
How did we do it? With a whole lot of people power.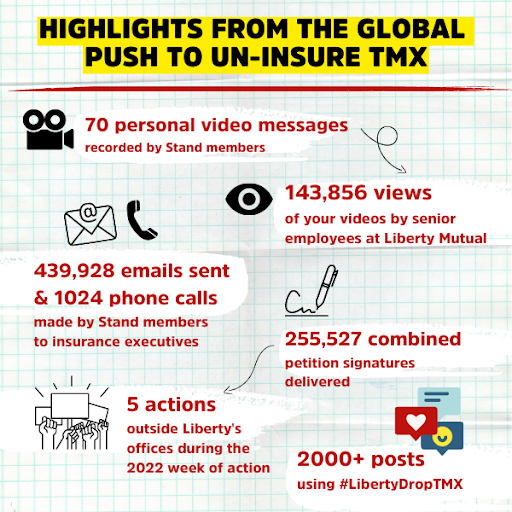 Months before Trans Mountain's August 31st insurance deadline, we renewed pressure on insurers with a warning-shot open letter, backed by 70 groups and organizations around the world. From that point on, we continued to bring the heat in the streets, the media, and all over the internet. Over the past several months, insurance executives have been bombarded by nearly half a million emails and over a thousand phone calls – just from Stand members alone.
Over 70 Stand members recorded personal video messages to Trans Mountain's insurers, and in the final weeks leading up to the insurance deadline, a compilation of those videos was viewed over 143,000 times by senior staff at Liberty Mutual. That was all thanks to donations from members of this community who powered a hyper targeted digital ad campaign.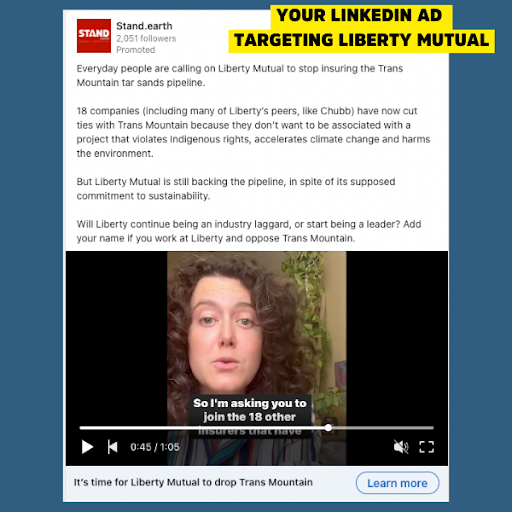 Working with our global coalition of allies, we then gathered a quarter of a million petition signatures from people around the world calling on insurance companies to drop Trans Mountain. And in a powerful week of action, that message was delivered during events and stunts that took place outside Liberty Mutual's offices in Boston, Seattle, Denver, Toronto and Vancouver. (There I am at the Vancouver action below).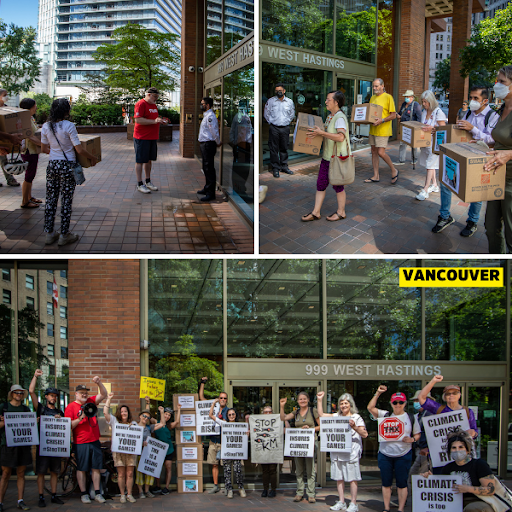 Some actions were big and some were small – but all had an outsized impact. In Toronto, it just took one person in a suit to make sure the 255k signature petition was hand delivered to Liberty's Canadian CEO, by casually passing the package off to an employee with the request "Hey could you give this to Rob?" We heard it was received too 😉 Below are a few images from the actions in Seattle, Denver, and Boston.
In the meantime, folks like you have been bombarding insurance companies all over social media – commenting on all their posts, sending direct messages, and making hashtags go viral. On the Selfie day during the recent global week of action, over 2,000 people used the hashtag #LibertyDropTMX, including youth who live along the pipeline route, allies in Sierra Leone, Indigenous artists, lawyers who have been fighting the pipeline tooth and nail for years, celebrities like Daryl Hannah, Dan Mangan, Bill McKibben and thousands more. (Below is an example of some of our favourite comments on a Liberty LinkedIn post).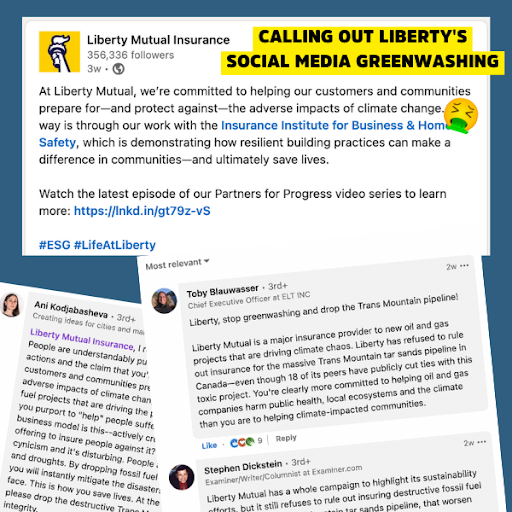 I'll be honest with you: each year this campaign goes on, it gets harderand harder to come up with new, impactful ways to pressure the insurance industry. And with each passing year, it's only the toughest targets that remain in the game.
But you know what else happens as time goes by? Our movement continues to grow. Our power keeps building. We hone our skills, tighten our strategy, and finesse our most effective tactics. And above all else, we recommit to keep going.
Insurance companies know better than anyone that no one is safe in a world where projects like Trans Mountain are still getting built – they're already facing a mountain of claims from record breaking floods, wildfires, and other extreme weather events. So to ensure a climate-safe future, companies like Liberty Mutual need to be part of the solution, and cutting ties with fossil fuel expansion projects like the Trans Mountain pipeline is just the first step.
We won't stop until Liberty Mutual and all insurers do the right thing. We won't stop until Trans Mountain is uninsurable. And under our watch, this pipeline is never getting built.
Thank you so much for all of your ongoing efforts and dedication.
With gratitude and determination,
Sven Biggs
Canadian Oil and Gas Programs Director
Stand.earth
P.S. Make sure you keep the pressure on Liberty Mutual to drop Trans Mountain by leaving a comment on Facebook, Twitter, Instagram, or LinkedIn.
---
Stand.earth challenges corporations, industries, and governments to prioritize the well-being of people, our environment, and our climate by creating long-term, effective solutions. None of this work is possible without your support.
San Francisco office: 548 Market Street, Suite 74196, San Francisco, CA 94104-5401
On traditional Chochenyo and Karkin Ohlone Lands  
---
Bellingham office: 1329 N State St., Suite 302 Bellingham, WA 98225
On traditional Lummi and Nooksack Lands
---
Vancouver office: 5307 Victoria Drive, Suite 347, Vancouver, BC V5P 3V6
On Unceded Territories of the səl̓ílwətaʔɬ, xʷməθkwəy̓əm, and Skwxwú7mesh Nations 
---