Members of Congress like Rep. Ted Cruz and Rep. Josh Hawley betrayed their oaths to our democracy.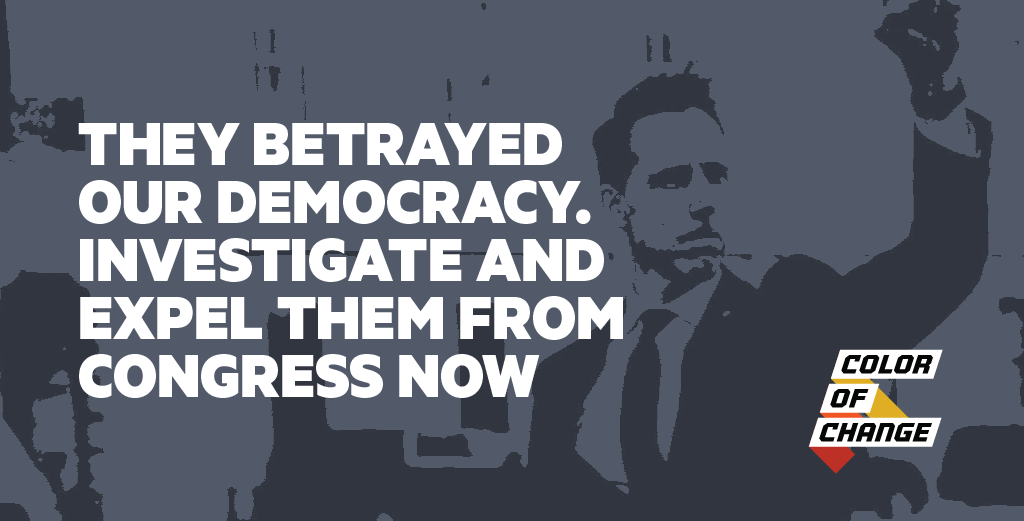 Investigate and expel them from Congress now.
Jeanne,
On Wednesday, just hours after news of a Democratic flip in Georgia, and in an attempt to halt Congress's certification of president-elect Biden, armed Trump supporters rioted and stormed the U.S. Capitol building.1 Make no mistake: Representative Ted Cruz's leading role in blocking president-elect Biden's certification empowered these extremists.2 Representative Josh Hawley's raised "power fist" to Trump supporters outside of the Capitol building empowered these extremists.3 Representative Mary Miller's invocation of Adolph Hitler in her speech on the Capitol lawn empowered these extremists.4 Jeanne, this was not just a coup attempt. It was a clear message from a white nationalist base that is not going anywhere any time soon, and that has been enabled by sitting members of Congress — members who have betrayed their oath to uphold this country's constitution. History tells us that when we ignore an attempt like this, and when we do not seek to hold those responsible to account, it only encourages that base to organize larger, more effective attacks in the future. That's why we cannot afford to talk about this attack on democracy without talking about the members of Congress who have enabled it.
Will you ask your Representative to support Rep. Cori Bush's resolution to investigate and remove the members of Congress who encouraged this attack on democracy?
We have their names — the Republican Representatives who have openly supported the undermining of a peaceful transition to a new, democratically-elected, presidential administration. Every single Representative who has fanned the flames on baseless conspiracy theories about election fraud, every member of Congress who has worked to invalidate the votes of their Black constituents, every member of Congress who has launched frivolous lawsuits in an attempt to overturn the election, has actively and intentionally put Black people's lives in danger. They must be investigated and removed from office. Representative Cori Bush has introduced a resolution into Congress that seeks to do exactly that.5 Will you ask your Representatives to support Rep. Bush's bill to investigate and expel the members of Congress who have enabled the latest coup attempts, from office?
Until justice is real,
Jade, Johnny, Amanda, Erica, Evan, Eesha, Marie, Gabrielle, FolaSade, Imani, Sam, Stasia, Taurjhai, Jennette, and the rest of the team
References:

---
Color Of Change is building a movement to elevate the voices of Black folks and our allies, and win real social and political change. Please help keep our movement strong.
If you're absolutely sure you don't want to hear from Color Of Change again, click here to unsubscribe.